Hi guys! I got a chance to interview a Missy Fleming, and even though I am not interested in her novel, I'm sure some of you are.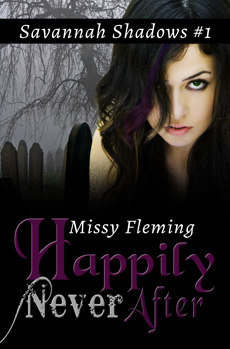 Happily Never After
There's no such thing as happy endings.
Savannah, Georgia is rumored to be the most haunted place in America. Quinn Roberts knows it is. She's felt the presence of spirits her entire life, investigating and photographing them with her best friend. Only none of those encounters ever turned violent, until now. The menacing darkness feeding off her stepmother has promised she won't live to see her eighteenth birthday.
After a chance meeting Quinn reluctantly allows actor Jason Preston into her life, which has complications of its own. She's not used to letting people get close. Falling for him while fighting for her life, and her family's legacy, only complicates things more. Jason shows her exactly what she stands to lose, especially when she's being attacked by the mysterious entity. Each attack is more violent and terrifying than the last.
With Jason's help, she dives into the Roberts' family history, searching for a link between a woman who went missing a hundred and fifty years ago and what's happening now. What they find is a brutal murder and that the ghost doesn't just want to hurt Quinn, it wants revenge.
It wants her life.
from
goodreads
Did you always want to become an author?
Yes. I started with poetry pretty young, then it morphed into ideas for stories. I have to say it probably took me like five years to finish that first book. Happily Never After is the second novel I ever finished. I began writing thinking I'd do adult romance because it's what I enjoyed reading. Once I ventured into YA and paranormal, then fantasy, things took off from there. For some reason, it's easier making worlds up then setting something in reality. Don't know why that is!
How did Happily Never After start as an idea?
I'm a huge fan of shows like Ghost Hunters and Ghost Adventures. I had in my head I wanted to do a ghost story, set in a great historic city like Savannah, and it grew from there. Quinn is an amateur ghost hunter who's always sensed the presence of spirits, so when building her backstory it somehow picked up more and more aspects of Cinderella. So, I figured, why not? I imagined a southern, gothic Cinderella and I really think I've accomplished it. Happily Never After is a special story to me. I have the characters cast, a soundtrack fitting the mood and setting, and launching into the sequel I'm exploring a new frontier.
Advice for inspiring young authors?
That's easy. Do not give up. And find a critique partner, a fellow writer who is similar to you and who understands your style. So much has changed in the publishing world, making it more important than ever to understand who you are as an author. Are you happy self-publishing? Is it the best you can offer? Don't write for the market, for what you see selling. Write for yourself. I always said if no one sees my writing, I won't feel like I've failed. I'll have these stories which mean so much to me and finishing them is one of the greatest feelings in the world. I'd be completely happy with that.
What was the hardest part in writing Happily Never After? Easiest?
I'd say the hardest was capturing the essence of Savannah, Georgia because…wait for it…I've never been there. I studied maps and history, immersing myself in it. I've been to Georgia, was born there, but never to this fascinating city. It's hard to bring a place to life when you've never walked its streets. I also struggled with mixing in the Cinderella elements. Was there too much similarity? Was there not enough?
The easiest part was Quinn, the main character. Her struggles and her abilities were the center of the story, the part I had in my head from the beginning. I knew where I wanted her to go, the girl I hoped she evolved into. And she's still evolving. There are big tests coming up for her.
Favorites:
Color?
Black, purple. I also love earthy tones like browns and greens.
Sport?
Football, hands down. LOVE the NFL. Also having roots in the south, NASCAR has always been popular in my house.
TV Show?
I am a huge, huge fan of Lost. Still watch the seasons over. Once Upon a Time has really got me hooked as well, obviously. Others include Big Bang Theory, Scandal, Game of Thrones. And of course Ghost Hunters and Ghost Adventures.
Movie?
It's always impossible to pick one. I'm a proud geek so I love stuff like Avengers, Dark Knight, Star Trek, The Hobbit. To be honest, my favorite movie of the last couple years, the one I can watch over and over is the reboot of Star Trek. Gone With the Wind is up there as well. Basically anything
J
Book?
Another impossible pick. I reread a lot of books, but the one I read the most is The Host by Stephanie Meyer. Which is strange because I'm not the biggest fan of Twilight. It just pulls an emotional response from me every time. Of course, Pride and Prejudice is another. I LOVED all the Game of Thrones books. The new Bloodlines series by Richelle Read. City of Ashes. There are just too many to list.
Author?
For YA: Richelle Read, Cassandra Clare, Suzanne Collins For Adult: Nora Roberts, Kristin Higgins, Sherryl Woods, JRR Martin. There is never enough room for me to mention favorite books or authors. I read A LOT.
Where can we find you online?
Right now, only at
fireandiceya.com
. I'm still working on getting a website and facebook page. I spent so much time getting the book ready and lost in my others that I'm way behind on the times. I'll get there, but I can be reached through my publisher's website for now.